Updating your billing and account details in Futrli is very simple, and only takes a moment.
Should you ever need to change your billing information for your Futrli account, whether it's to upgrade or to change payment card, you can do that very simply.
First, we need to navigate to the profile section, which is found in the top right-hand corner of every section of Futrli with the "Settings" menu, meaning you can access it whenever you require. Click the 'cog', and select 'Profile' from the drop-down menu.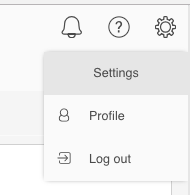 This will open up the Profile menu, and the first tab you will see is the billing tab. Here you can adjust your details as needed, including your bank information, billing address and apply any valid discount codes.

Once you're happy with any changes you have made, simply click 'Save' and your changes will automatically update in our system.