Futrli Advisor Alerts allow you to monitor your business data on auto-pilot. You can use them to create notifications for all of the key metrics that matter to you, enabling you to always stay aware of performance, good or bad.
In this guide, we'll be walking through the basics of setting up an Alert from scratch.
Step One
First, we need to navigate to the Alerts section of Futrli Advisor. Select 'Add New' to create a new Alert: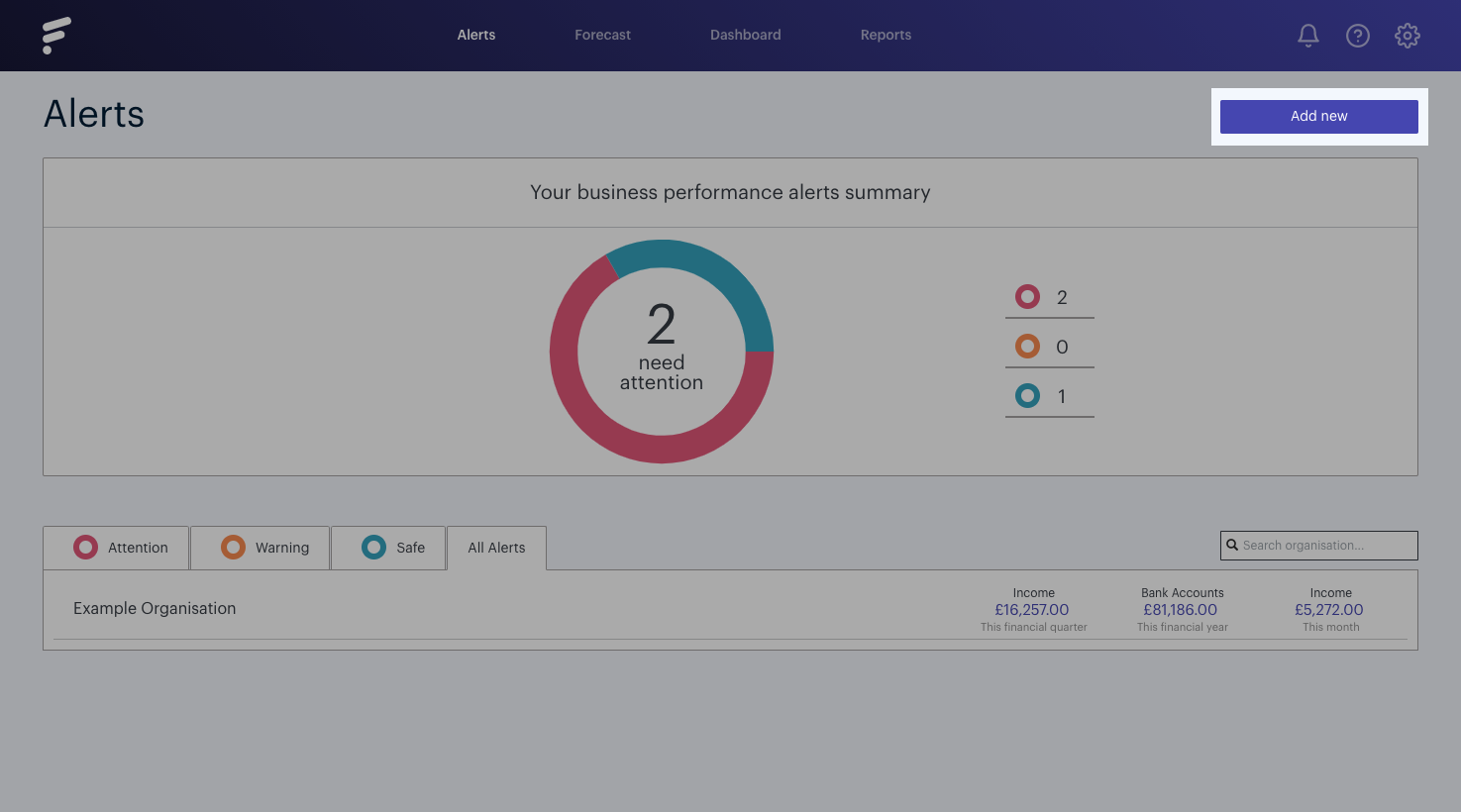 Step Two
This will load the 'Add an Alert' window. This is where we can select what type of Alert we wish to create and enter the details of when we wish it to trigger. To create a Current Alert we need to select either a Current Account Alert or a Current Formula Alert. In this example, we're going to be creating a Current Account Alert: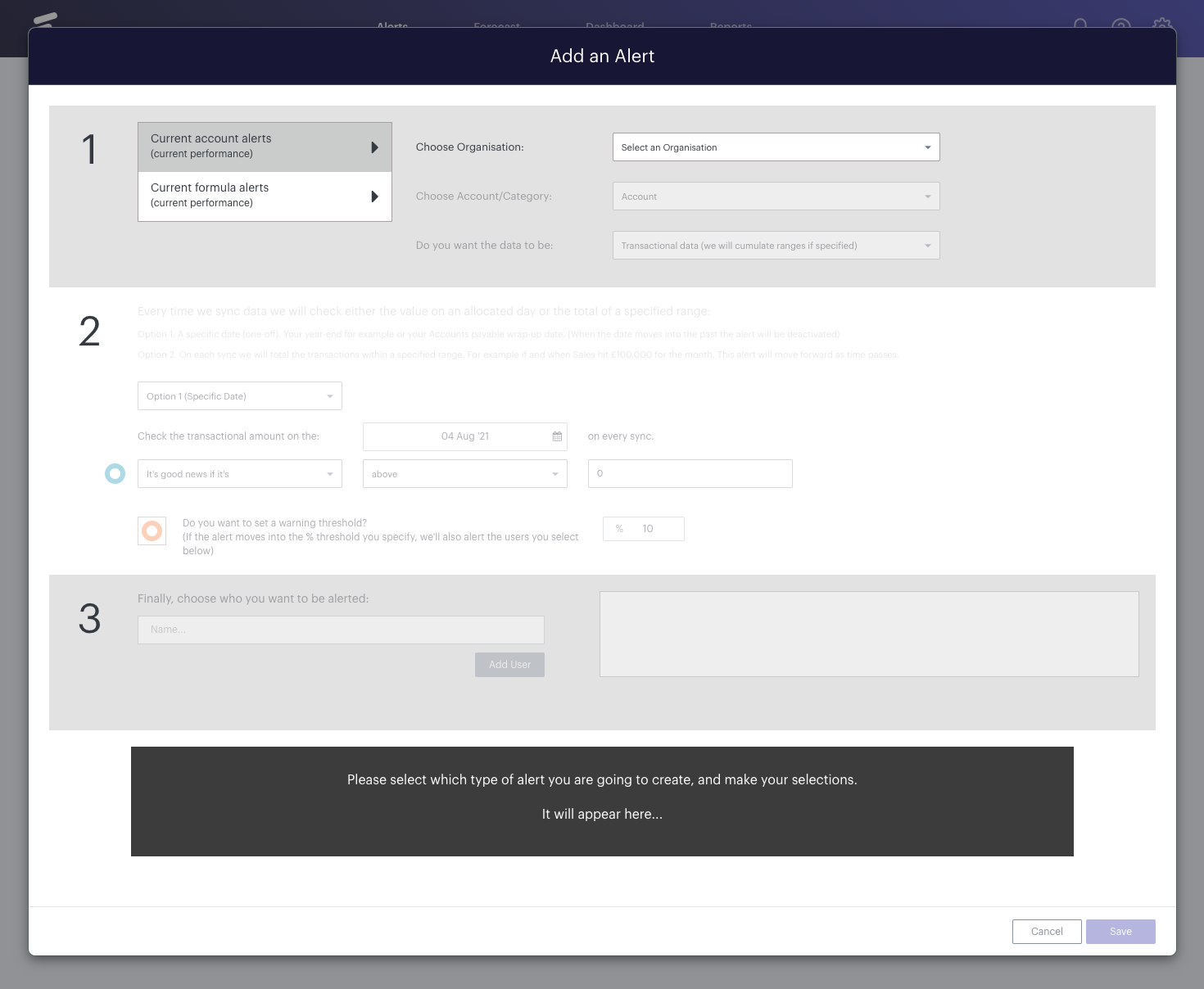 Step Three
After selecting our Alert of choice it's time to choose the Organisation we wish to create an Alert for. We then need to choose the Account Category or Line we wish to create a trigger for.
In this example, we're going to be creating an Alert to notify us if our Bank Accounts drop below £2,000 at any point this month. We, therefore, will be selecting our Bank Accounts line and cumulative as our data option.
Transactional or Cumulative? Odd question perhaps, but this is really simple and doubles the effectiveness of the alerts. We bring in journals for Xero, and cumulate data from the beginning of time to give you your balance sheet data, but conversely, if you want to cumulate P&L information you can, and if you want to monitor transactional data of a balance sheet account such as bank activity, you can.
Step Four
In our next step, we head to section 2. The alert parameters.
Do you want this to be a good or bad news alert? Remember you don't always have to be the bearer of bad news! For now though, we'll be setting this as bad news as we don't want the Bank Account to drop below £2,000 at any point.
Do you want the alert to monitor a value on a specific day? Or a value within a range - this week, this month etc? We'll be selecting 'This month' for this example.
Do you want to be alerted when the value is above or below the value set? Let's choose 'Below' as we want our bank balance monitored.
Finally, what is the value you want to be alerted about? In this instance let's be alerted with the bad news if our Bank Account is below 2,000 this month: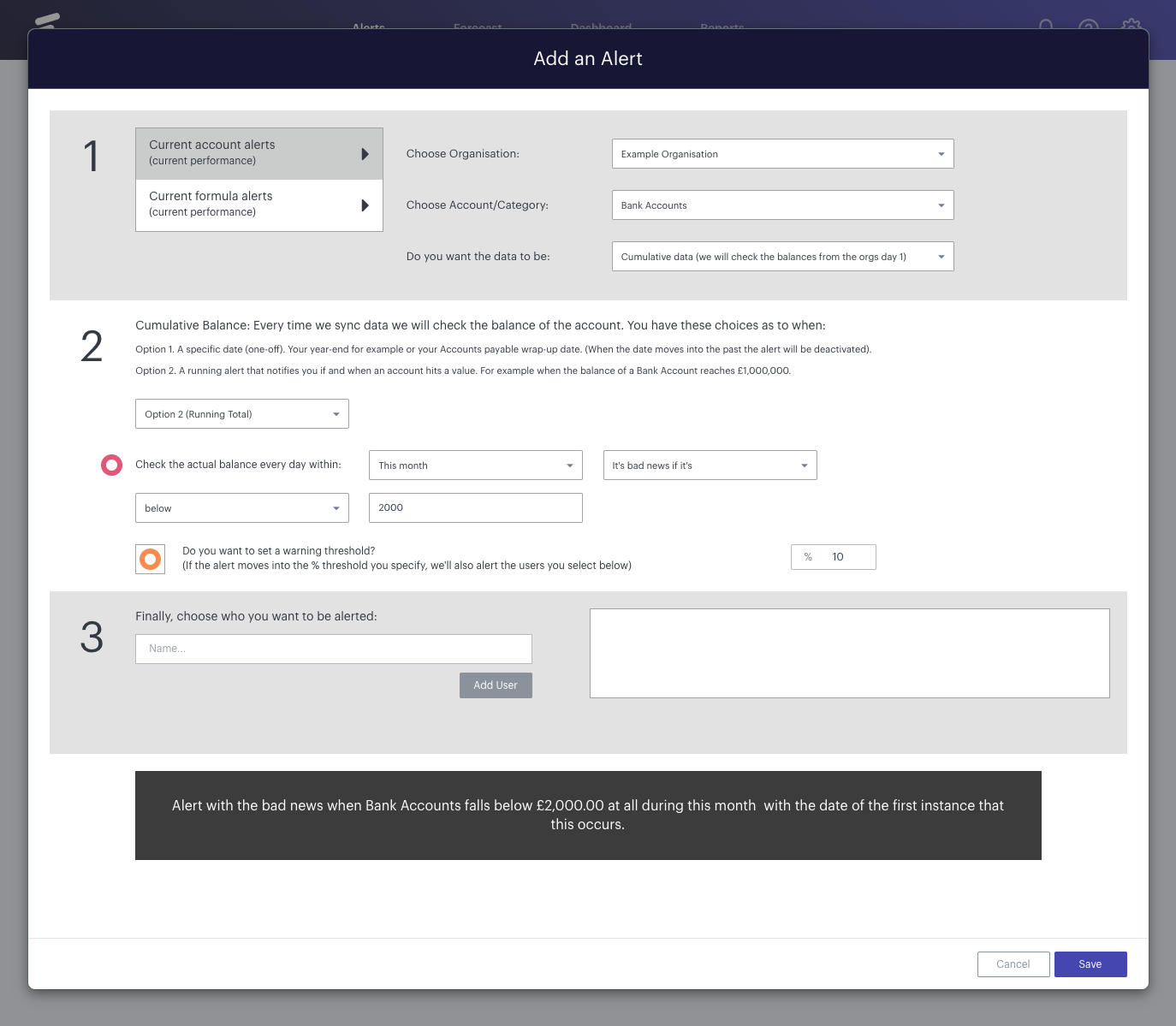 Step Five
The final piece of the puzzle is how you want to be alerted and if you would like anyone else with permission for this organisation to get alerted too.
All users who have permission to view this client organisation will be listed here. Use the search and then choose each person - including yourself of course! To be clear here, you will

always

get an in-app notification in Futrli if an Alert is triggered, but to receive an email, you must select the user.
Step Six
At the bottom of the page we'll find a summary of the Alert we're about to create. If we're happy to continue all we need to do now is hit 'Save' and our Alert will be created.
The report will be run straight away, and if the Alert is triggered immediately you'll be notified, it will be re-checked on every sync to ensure that you are being monitored daily.
Formula Alerts
This is where you can start getting creative over what you'd like to monitor. Remember that our formulas can be a combination of financial and non-financial data, so if you are uploading non-financial data to Futrli Advisor, make sure you are using us to help monitor things for you.
It's the same process in step 1 but as you choose a current formula Alert you'll see the formula section appear.