Once you've built your Board, Cards are the next step
Cards are your reports. They are a key feature within Futrli, providing a huge variety of customisable options to display a huge number of different metrics so that you can get the information that you need for your business. Before we look at the huge amount of different Cards available to Futrli users, let's show you the basic steps of how you add a card to your Board.
If you navigate to the "Boards" section, and across the top menu, you'll see a button marked "Add Card". This is the gateway to a brighter financial future.
Clicking 'Add Card' will bring up a menu, showing the different types of card.

There are three sections, Build your own, Operational KPIs (Profit & Loss), and Cash/Assets/Liabilities (Balance Sheet).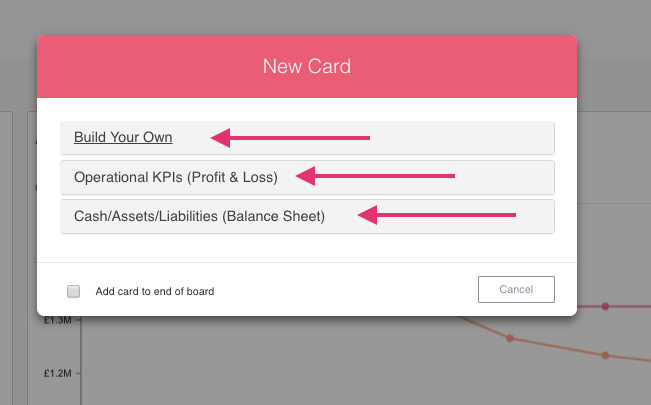 The latter two categories have prebuilt templates for your convenience, and build your own has a variety of Card templates for you to build from scratch to your specification. The process of adding a Card is similar regardless of what Card you choose, but for this example, we'll select a new Report Card from the Build your Own section to show you how simple it can be.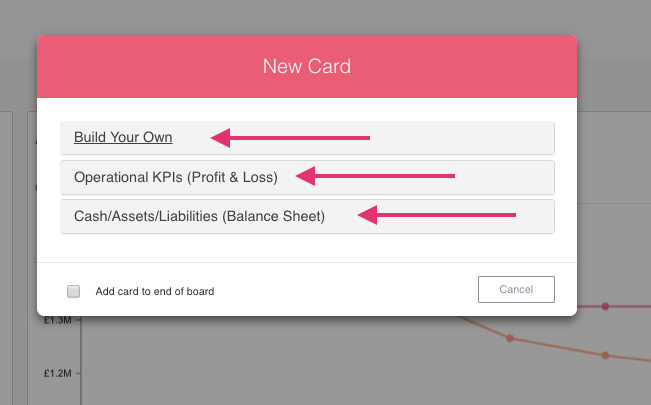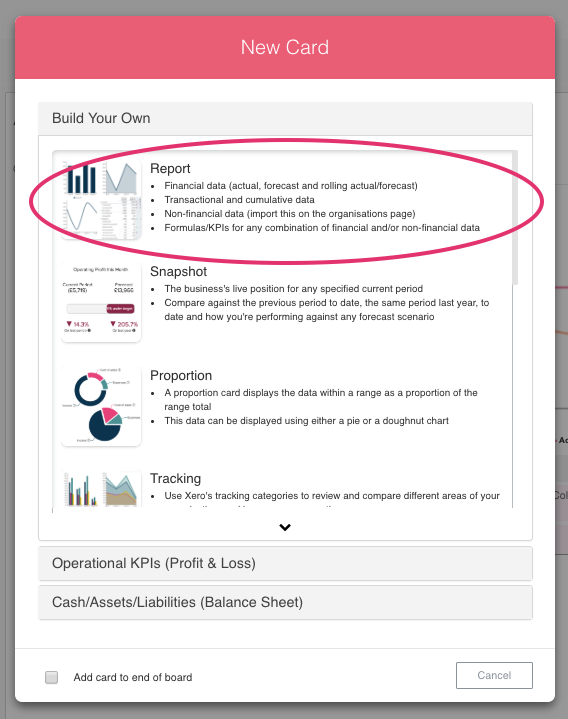 Once selected, you'll see the data set available for you to customise, and three tabs - Settings, Report, and Columns. In Settings, you can select the organisation, whether you want to use actual, forecast, or forecast and actual data (you will need to have created a forecast to use forecast data within your Cards), as well as your chosen date range.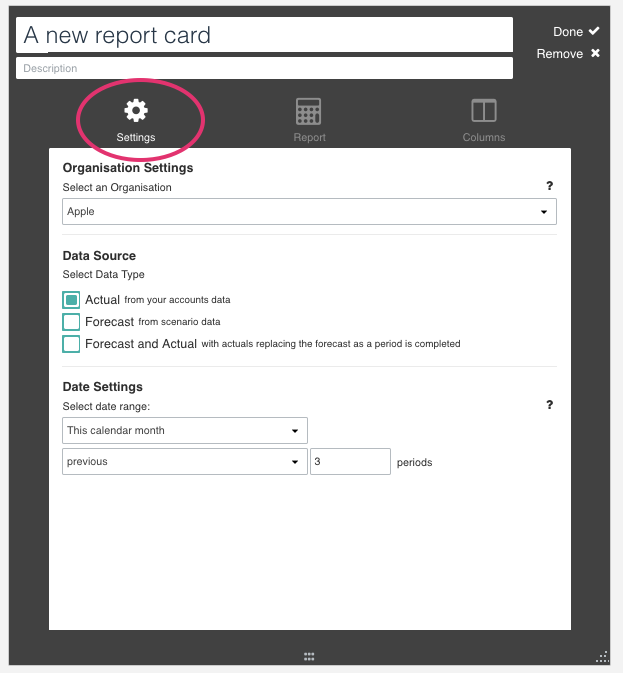 In Report, you can select how you would like the Card to display and what Formula data you might want to display. More detail on formulas and how to use them within your Card can be found here.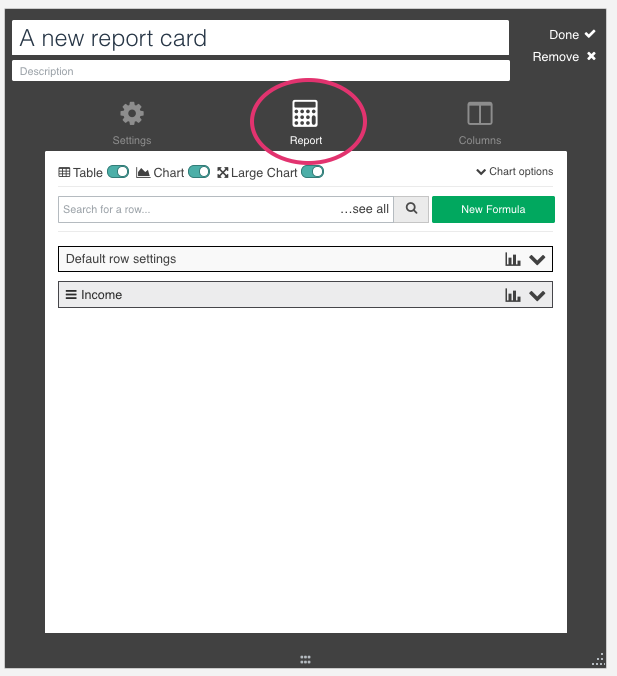 Finally, in the Columns tab, you can get even more granular on how columns appear in your report.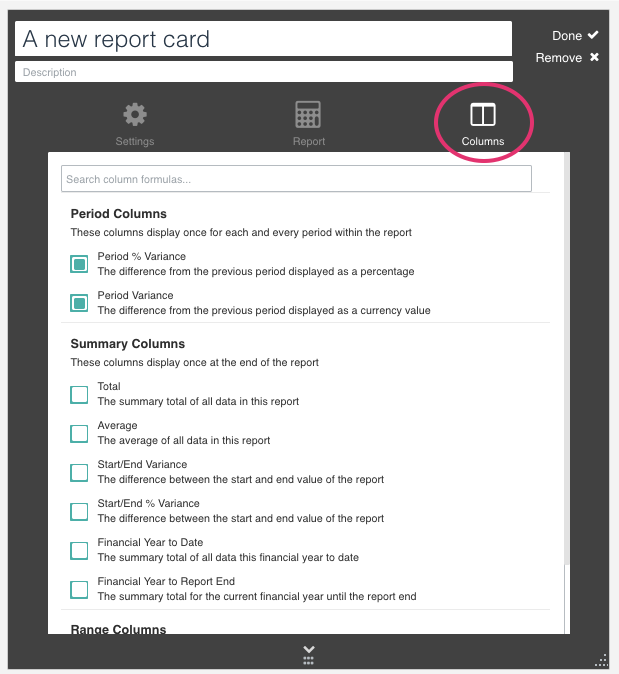 In the top right of every Card, you'll see the "Done" and "Remove" buttons. Clicking "Remove" will generate a dialogue box which will double-check you are sure your intention is to remove the Card.

Clicking "Done" will flip the Card and you'll see your Card displaying on your Board.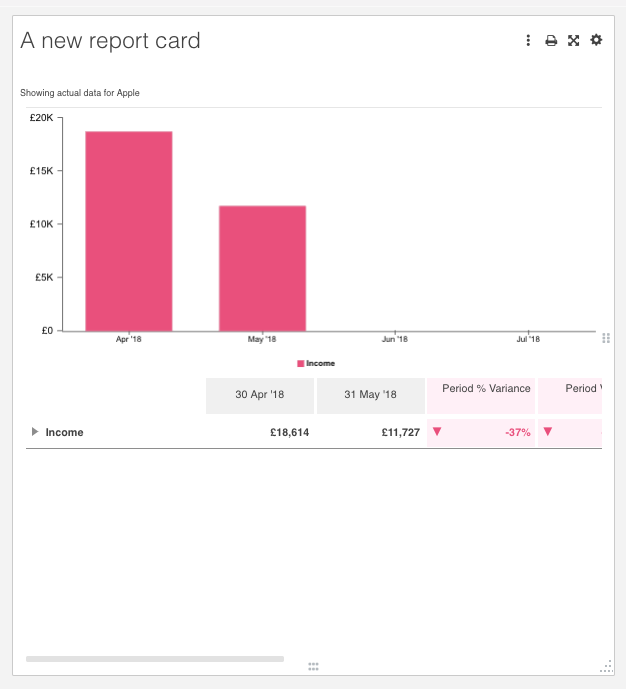 Of course, you can change the settings on your Card at any time by clicking the cog in the top right-hand corner to flip the Card back around to display the data settings.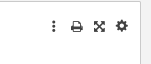 Alongside the cog you will also see the three dots which can be used to export your Card to a PDF or Excel, as well as duplicating or removing the Card, while there is a control to view the Card in full screen here too.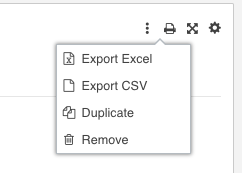 It really is that simple to add a card to your Board, and begin getting accelerated, real-time insights into your business. However, we would suggest you explore further, and read our guides to the different types of Cards, and how they can help you customise your Board to your business' needs.