Video: A quick introduction to Futrli Advisor's forecasting tool
Forecasting in Futrli Advisor is your key to looking into the future and, more importantly, making intelligent business decisions as a result.
Every forecast you create will give you the option of how you use your actual data from previous months. The last available balances for your balance sheet accounts are used as opening balances, just to make sure your forecast is giving you the most accurate prediction possible!
- - - - - -
What is a forecast?
A forecast (also referred to as a scenario or a budget) is every account, account group and account category within your organization's chart of accounts. As well as being able to see the figures for past and present, the forecast will allow you to look at expected future figures by creating forecast items. Each customizable forecast item is set up to calculate future numbers with a variety of methods available.
You'll have the option of what date range you want to look at (up to 10 years) and how you want to predict what is going to happen. We'll make this process as easy as possible for you!
- - - - - -
How can I create a forecast?
Any account owner or admin on Futrli Advisor has the powers to create a forecast for an organization. You'll find the forecasting section within the main Futrli Advisor menu:

You'll just need to set your organization's default accounts (find out how to do this here), then you can hit 'New' to select your method!
- - - - - -
What methods are available?
We have a break down of your options available (click here to go into more detail), but for now we'll just briefly run through which direction you can go in!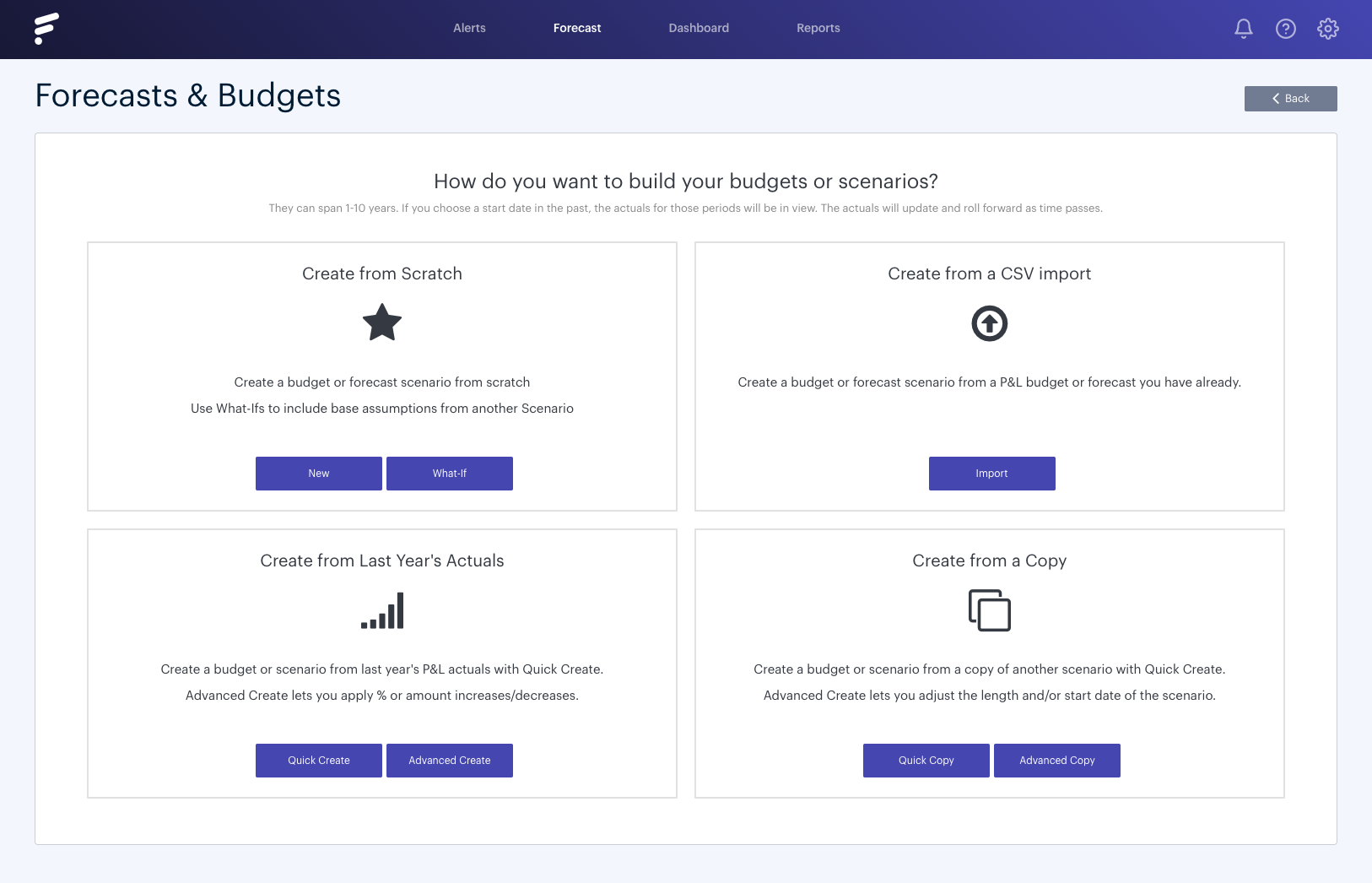 'Create from Scratch':
Two options here, 'New' or 'What-If'. 'New' will simply create somewhat of a blank canvas, ready for you to add forecast items to individual accounts. 'What-If' is what you'd use if you'd like to combine forecasts, using one as a base assumption.
'Create from CSV import'
We know that you may already have your budget set up within your accounting software or even on Excel. Importing that work into Futrli Advisor is nice and easy! This option will take you through our CSV uploading wizard, more information on this process can be found here.
'Create from Last Year's Actuals'
One of the most popular methods we have! With just a few clicks, you can build detailed forecasts based on previous performance. If you'd like to use the same figures as the previous year, 'Quick Create' does this, but if you wanted to add increases or decreases, 'Advanced Create' gives you those options.
'Create from a Copy'
Nice and simple! 'Quick Copy' will, well, create a quick copy. 'Advanced Copy' gives you the option to take an existing forecast, but change the start date or duration. Perfect if you just want to extend your forecast without wanting to start fresh!
- - - - - -
What do I do with my forecast?
The forecast information you create can be exported directly from the forecasting section, but we'd recommend adding it into reports. You can build cards on boards, or if you'd rather, our 'Printed Reports' feature is your tool to producing customizable, meeting-ready reports!
- - - - - -
Ok, I'm ready to go! What next to get started?
There are a range of help guides available to give you that helping hand with forecasting in Futrli Advisor! Of course, our Support Team are also always happy to help, so don't hesitate to get in touch!
For now, why don't you familiarize yourself with the forecast set-up, then build your own!