Report Cards are the ultimate in flexible reporting. One or many of the following things can appear on them:
Financial data: Actual, forecast or rolling actual & forecast presentation of your data. You need a scenario created for the last two.
Aggregation: As we store all data in its most granular form, you can view it transactionally or cumulatively (P&L data would be transactional and Balance sheet data would be cumulative by default)
Non-financial data: You can import as much non-financial data as you need (on the organisation's page, hit the Settings button for your organisation, further information on how to import non-financial data can be found here)
Formulas: this is where you get creative with what you want to analyse! Bear in mind that any formula you build can be saved to your formula library and can involve financial and non-financial data. They can also reference data in the past and can be used seamlessly for actual and forecast data!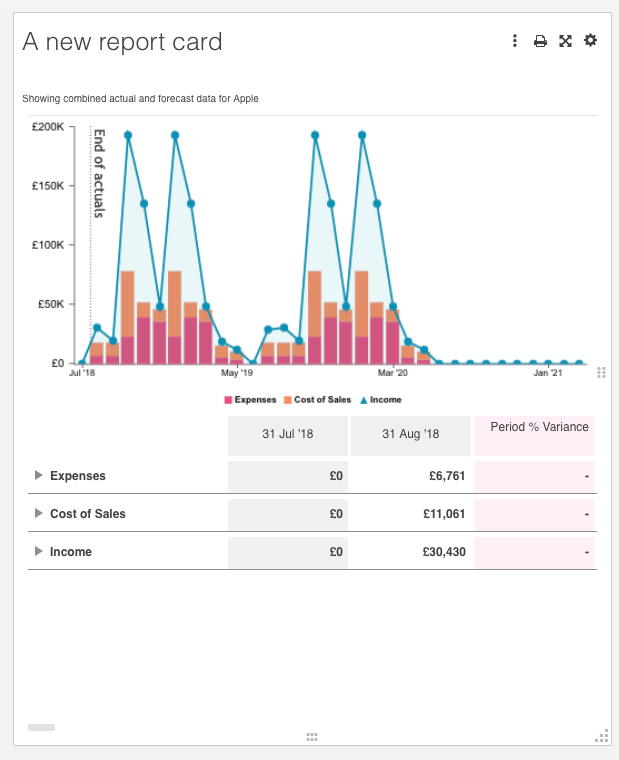 You can add Report Cards by clicking Add Card, and selecting Report Card either from the Build Your Own section or by selecting one of the Report Card templates
Let's illustrate this with a practical example.
Cashflow issues can affect any business, so in this example, we'll look at creating a report Card to monitor how long it takes your customers to pay you.
You're going to use a template and we're going to edit it. Add a Card and head to the bottom section (Balance sheet), and choose Monthly Debtor Days (how long does it take my customers to pay me?):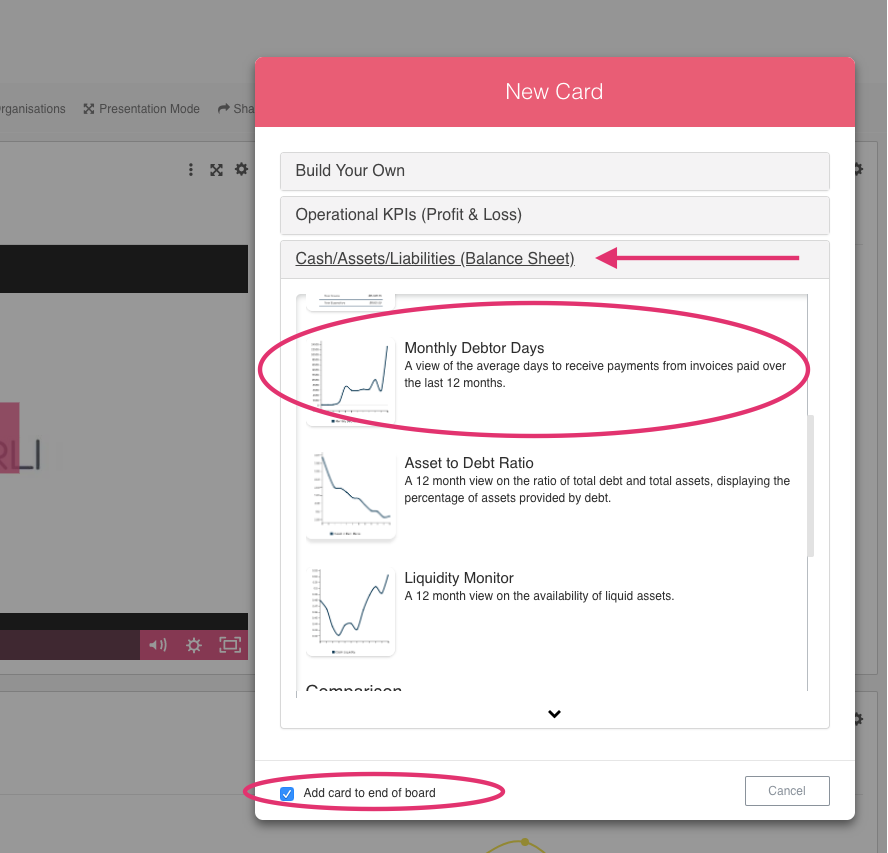 The card will flip around, and we will have three tabs that each performs a different function
Click through the tabs and make the changes as per the image (listed below). I've also changed the name of the card and given it a description.
The Settings tab 
This is where you can switch between organisations if you have more than one
You can choose your data set. Do you want actual data, forecast data or a combination of both?
You can choose your date periods and the direction of travel that the report will take too. We store all of your data in a granular way, so if you want to view daily data, you can. If you want to roll that up into 2-week or quarterly periods you can. It's your data, view it the way your business needs to see it.
Choose actuals in this case and we need monthly periods for this report, but feel free to have a play.
The Report tab
There is a formula there already as this is a template, but this is where you can:
Add accounts from your Chart of Accounts
Account categories (such as Income or Cost of Sales)
Add groups (categorising your Chart of Accounts into more meaningful groups is a great way to personalise Futrli for your business. More information on that can be found here)
Add non-financial data (import on the organisation's page, more info here )
Add formulas (KPIs, from our library or your own custom ones)
Hit the pencil icon on the monthly debtors formula, you'll get your first view of the formula builder. Change the name of the formula to "How long it takes my customers to pay me" and hit OK
Choose whether you want the Card to show a table only, a chart or both.
Choose what you display on the chart
Choose the chart type you'd like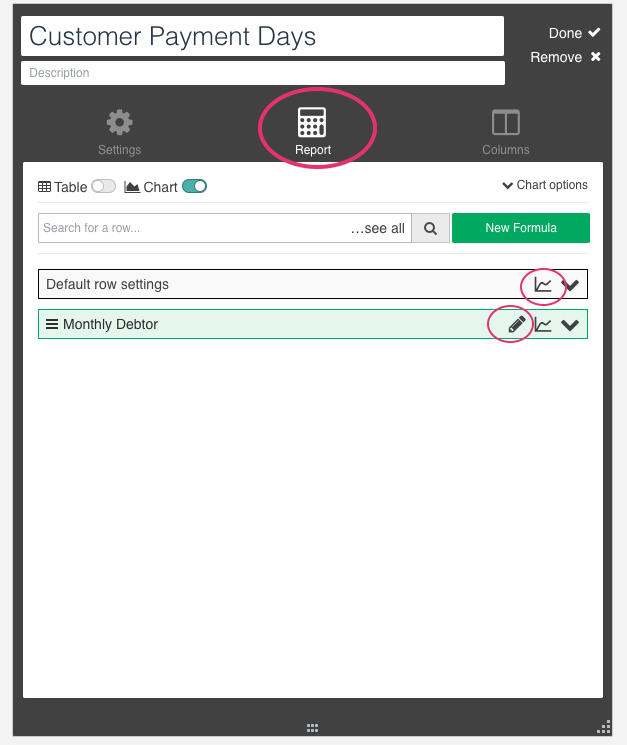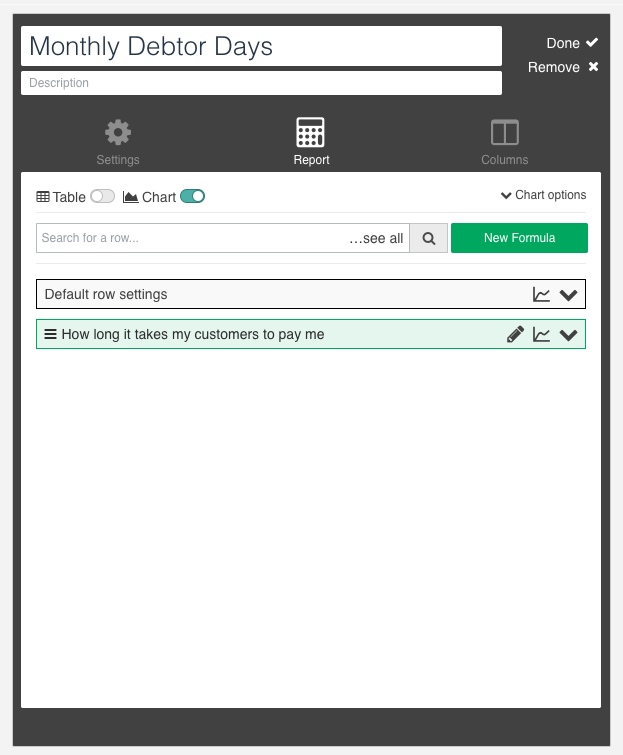 The Columns tab
This is all things column formulas.
Period variance analysis
Start/end variance analysis
Averages
Financial year to date
Financial year total
Totals
We need the Average one for this example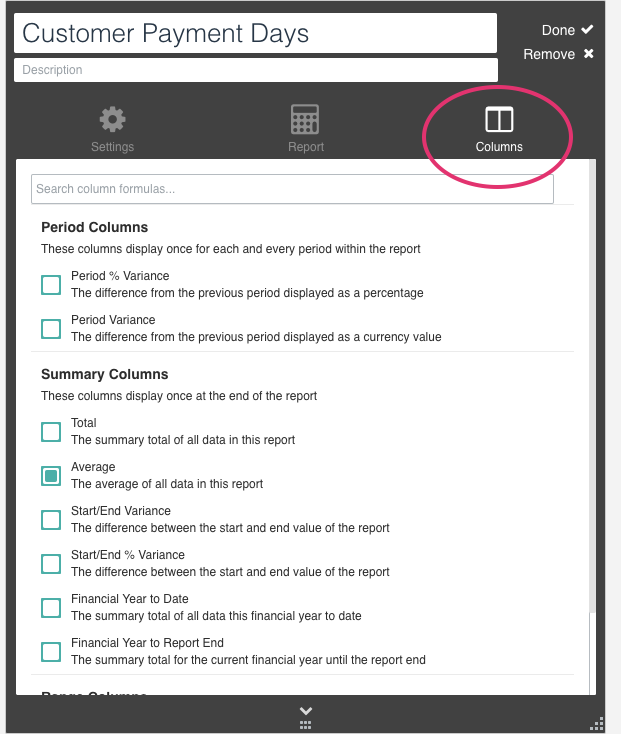 Now…Hit Done in the top right of the card, and watch your card flip.
Here is the result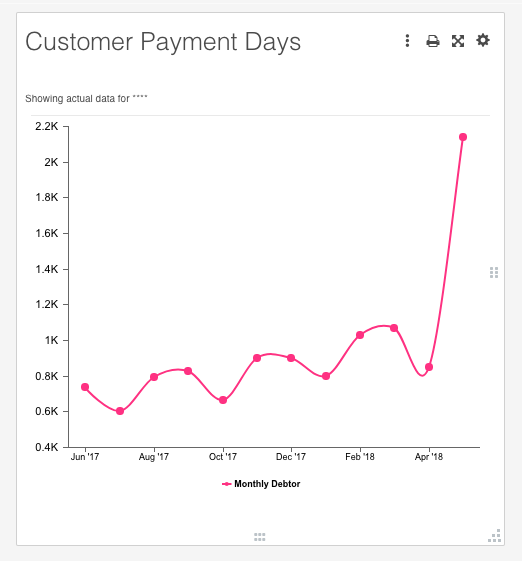 But…you can't see a lot of the figures. And where is the average? Never fear! You're going to make the Card bigger.

Hold your mouse on the 6 dots on the right side and drag to the right, to double width. For more on reordering or resizing your Cards click here